FROM THE CENTER
an exhibition based on "From the Center: an exhibition based on "From the Center: Feminist Essays on Women's Art." By Lucy R. Lippard.
DUANE THOMAS GALLERY
New York, NY
Tribeca: 137 West Broadway, 3rd floor
New York, NY 10013
Thursday November 30th, 2023 with a reception from 6 to 8 pm – Closes January 25th, 2023.
New York, Tribeca. Duane Thomas Gallery is delighted to present an exhibition that pays homage to Lucy Lippard's groundbreaking publication, "From the Center: Feminist Essays on Women's Art," originally published in 1976. This seminal collection of essays has played a pivotal role in shaping the discourse surrounding women's art and has been a source of inspiration for generations of artists and scholars.
The exhibition, aptly titled "From the Center," seeks to activate Lippard's influential ideas by showcasing a selection of artworks that echo the themes explored in her groundbreaking book. The featured artists include:
Cynthia Carlson, Judy Chicago, Nancy Graves, Rita Myers, Shirley Pettibone, Adrian Piper, Reeva Potoff, Nancy Spero, Barbara Zucker.
Highlights of the exhibition include Cynthia Carlson's "Untitled (Inscape) #1," from 1970, a prominent painting from that era recently featured in Lippard's recreation of "26 Contemporary Women Artists" at the Aldrich Museum, CT.
Barbara Zucker's "Advancing Forms" (1974), a dynamic sculpture made from repetitive organic shapes that might recall stunted fingers and reminiscent of other works of the period such as "Dark Huts" (1973) and "Mix, Stir, Pour" (1972). Nancy Graves's film "Reflections on the Moon" (1974) a meditative and cinematic scroll through two hundred stills of the lunar surface, while Reeva Potoff's "Mica Schist '' (1971), reconstructs both sides of an outcropping in Central Park through 57 individual still photographs. It invites viewers to contemplate each individual photograph as an abstract entity, complete unto itself, as well as its contribution to the image as a whole.
The exhibition includes a captivating clip filmed by Australian artist Peter Kennedy documenting Adrian Piper's 1973 performance, "The Mythic Being," where the artist gets in and out of drag, rehearsing a mantra, and roaming the streets mutering it followed by onlookers, illustrating the themes in a conversation Lippard transcribed with the artist on this series of perfromances in an essay titled: "Catalysis: An Interview with Adrian Piper."
Rita Myers's video "Slow Squeeze" (1973) subverts the role of the artist by engaging in an 11-minute imperceptible zoom-in, adjusting her body to remain within the confines of the frame. A scroll from Nancy Spero's 1971 introspective take on Artaud's writings (Codex Artaud XXXI) and Judy Chicago's "Peeling Back," a print originated from a "Female Rejection Drawing" (1974) acts as a political manifesto for the full recognition of women's enduring genius and participation in art history despite rejection and systemic oppression.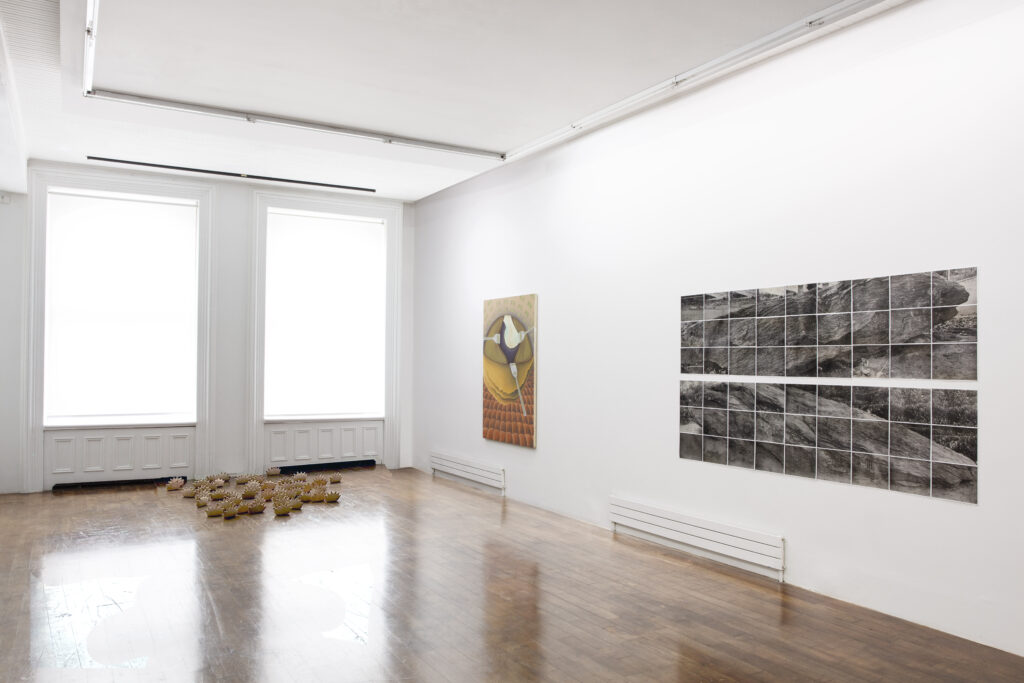 From the Center: an exhibition based on "from the Center" Feminist Essays on Women's Art." exhibition view