LAKES AND CLOUDS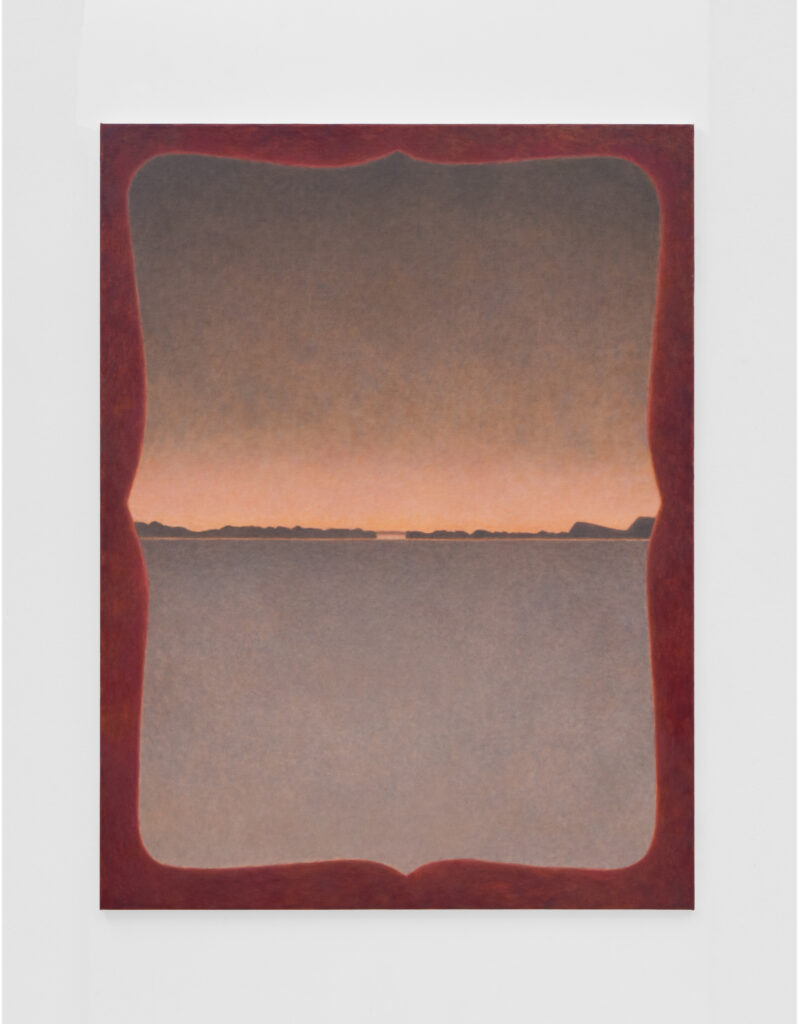 November 10 2022- December 15 2022
by appointment
Duane Thomas Gallery is proud to announce "Lakes and Clouds" a solo exhibition by Caroline Bachmann. The show will open on November 10th 2022 with a reception from 6 to 8 pm.
Caroline Bachmann was awarded the Meret Oppenheim Award in June 2022 in Basel, and this is her second solo show with the gallery.
The works made over the last year represent a continuation of a project she started in the early 2000's and that began when she and her partner and collaborator Stefan Banz were conducting research on the sites where Marcel Duchamp found inspiration for his piece "Given." The couple eventually moved to the town of Cully on the banks of Lake Geneva where they kept collaborating on various projects including the Kmd Centre d'Art Contemporain, a capsule sized museum with a full program of exhibitions.
Painting did not come as an obvious choice for Bachmann who may have been more inclined to work in a conceptual vein. She states in a recent interview with Yann Chateigne Tytelman: " I was born in 1963
and I faced 20 years of discourse in a French-speaking culture telling me that painting was dead. (…) The context was a bit arid but that made it more interesting."
Prone to insomnia Bachmann takes visual notes on Lake Geneva at dawn, a view offered through one of her windows in her studio. Painting Lake Geneva thus began as a process that defied categorization, she bluntly refuses the genre of landscape painting as a unique way to describe her work. The process is both driven by observation and mental and art-historical inspirations that cement over the course of painting as a hybrid composition. "There is a meteorological dimension in these paintings, in the sense that they
bring an external time and an internal time together." She notes in her conversation with YCT. In speaking about the painted frames in her compositions, she describes having found the idea in the paintings of proto-surrealist Louis Michel Eilshemius, and resolved to use the device as it seemed to address "questions (she) was tackling in (her) work 25 years ago in relation to focus in photography: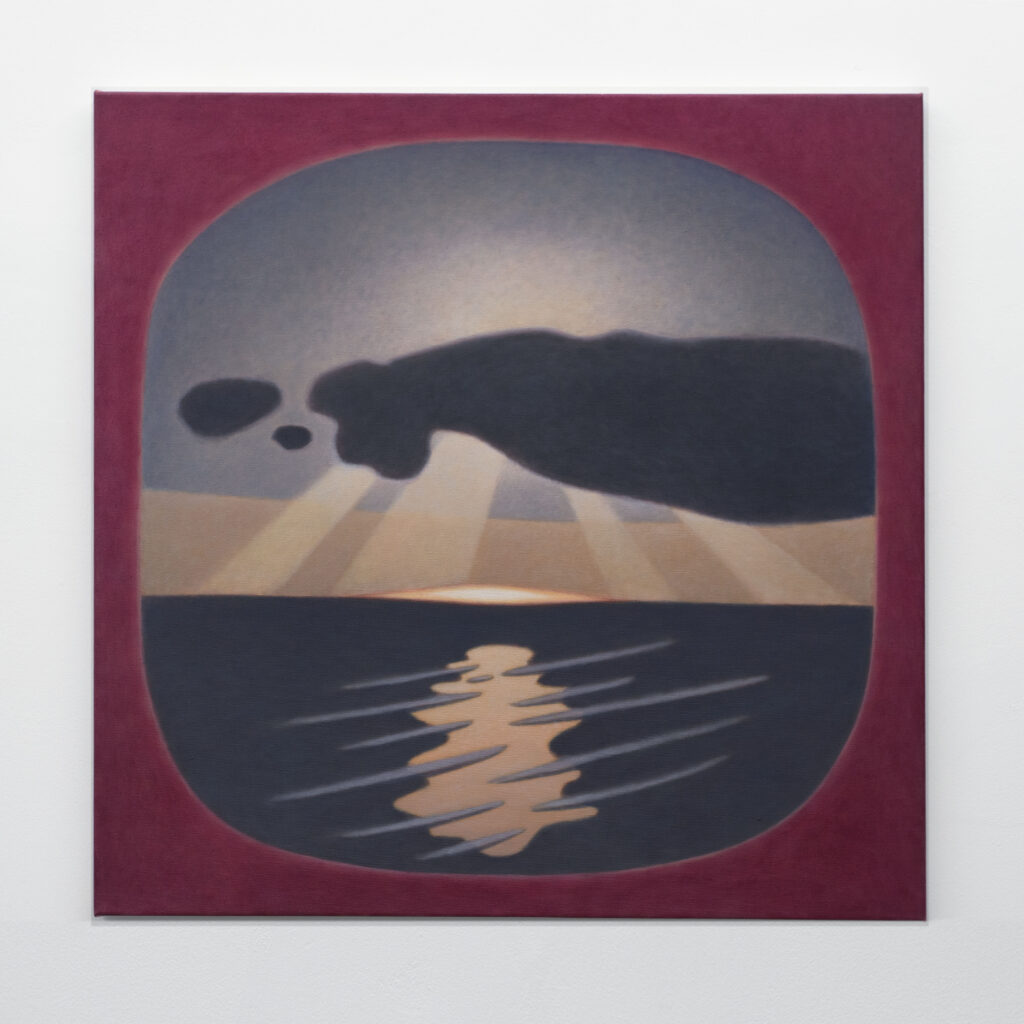 one of the principles of optics is that the more you restrict the field of view, the larger it becomes. Making it pass through a keyhole -or a hole in a door for instance, to reference Duchamp Again – Amplifies perception. (…) The painting works as an optical device."

Caroline Bachmann (born in Lausanne, 1963) lives and works in Berlin and Cully Switzerland. She was a professor and head of the Painting and Drawing Department at the Haute Ecole D'Art et Design, Geneva (HEAD) between 2007 and 2022. Between 2004 and 2014 she worked with the Swiss artist Stefan Banz. Together they set up the Kunsthalle Marcel Duchamp (KMD) in 2009. In 2013 she began researching the artists around Duchamp: her exploration of the more or less marginal painters who came within orbit of the dadaists led her to develop a new pictorial language of her own, She paints landscapes, portraits and still lifes, and well as historical paintings.
for more information contact: [email protected]
CAROLINE BACHMANN
STARRY SKY
A SURVEY OF PAINTED WORKS
2014/2020
December 15 / March 15 2021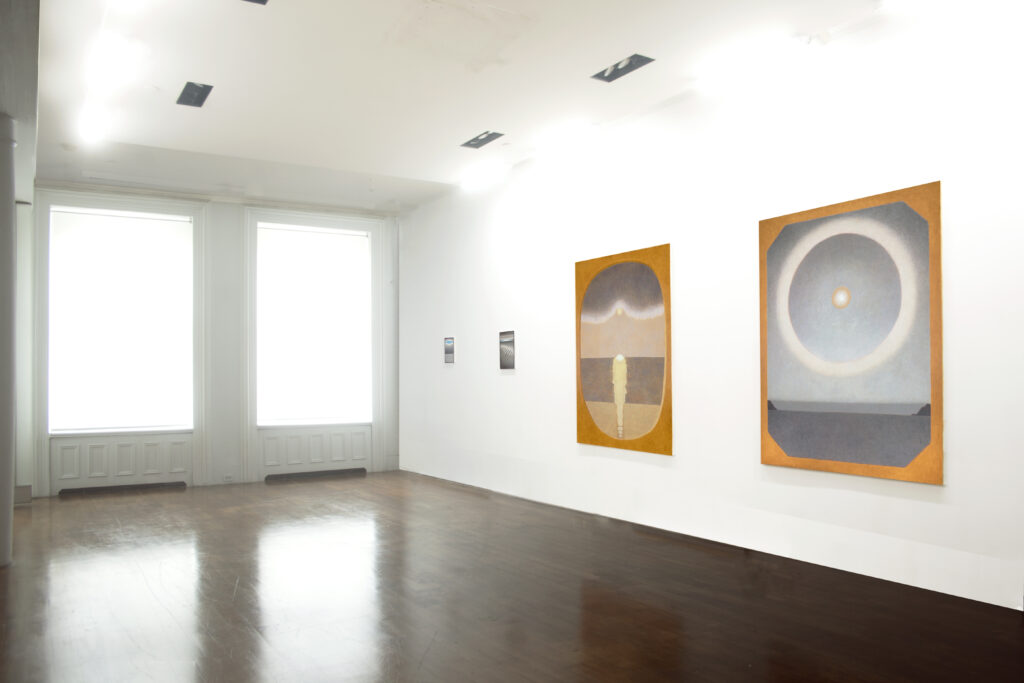 Caroline Bachmann: "Starry Sky, a survey of painted works 2014/2020," took place at Duane Thomas Gallery between December 2020 and March 2021. The show presented two distinct groups of paintings (landscapes and portraits) made between 2014 and 2020.
Having lived in Spain, Italy and Germany, Bachmann settled in Cully, Switzerland in 2002. She has shown work across Europe for the last twenty years, both solo and with her creative partner, Stefan Banz. It is in her studio near Lake Geneva that she painted the two series presented for this exhibition.
Neither particularly attached to the traditional form of portraiture nor landscape painting, the artist formulated a process that uses nature while divesting from representation. During bouts of insomnia, often between the hours of 2am and 8am, Bachmann stares at Lake Geneva visible from a window and jots notes with a pencil on paper, cumulating in quick diagrams that offer rough cues on composition and colors. This referent to an experience of contemplating the lake is then taken to another realm in her studio where imagination, memory and art historical concerns layer the compositions: neither to serve as a representation of the lake nor to convey an experience of it, but rather used as a catalyst for a complex symbiosis.
Located at the edges of sunrise and sunset, the works explore in a multitude of greys the possibility of color rising, but also point to different types of edges (metaphorical and otherwise), best presented in these compositions by a painted frame that can evoke a simple picture frame or an organic shape.
Bachmann became invested in this idea of painting frames while discovering the works of Louis Michel Eilshemius, a prototypical American artist whom Marcel Duchamp discovered in 1917 and who proclaimed himself "educator, ex-actor, amateur all-around doctor, mesmerist-prophet and mystic, reader of hands and faces, linguist of five languages."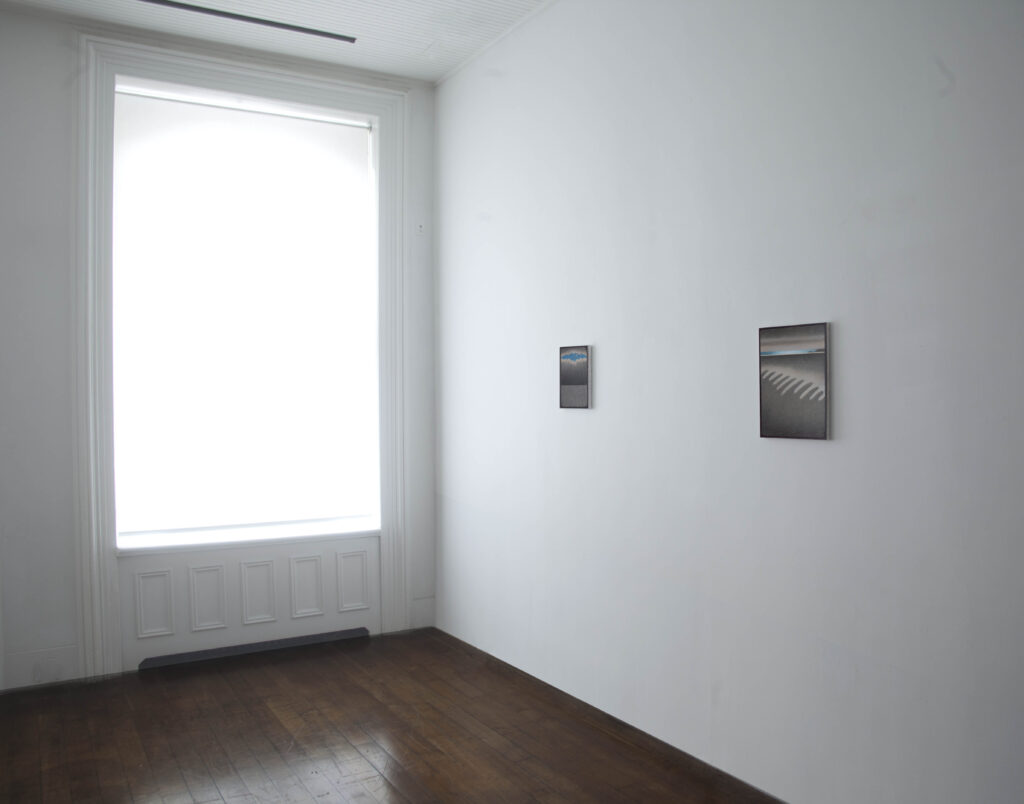 Linked by their non-linear and non-academic approach to thinking the painting process, often inclined towards the mystical, a generation of American art pioneers became a premise for Bachmann to tackle the form of portraiture. She created a series of eight portraits of Louis Michel Eilshemius, Marsden Hartley, Winslow Homer, Ralf Albert Blakelock, Milton Avery, Joseph Stella, Arthur Dove, and Albert Pinkham Ryder, presented in this exhibition. Since 2014 she has been developing a series of portraits of contemporary women artists as well.
After studying at the Academy of Arts and Crafts in Geneva, Caroline Bachmann went on to live and work in Barcelona and Rome before returning to Switzerland in 2002. Since 2007, she is a professor and dean of the painting and drawing department at the University of Art, HEAD in Geneva. She and Swiss artist Stefan Banz collaborated between 2004 and 2014, a period during which they founded KMD (Kunsthalle Marcel Duchamp | the Forestay Museum of Art), an exhibition and research space that they have been running together since 2009. Caroline Bachmann lives and works between Cully and Berlin.