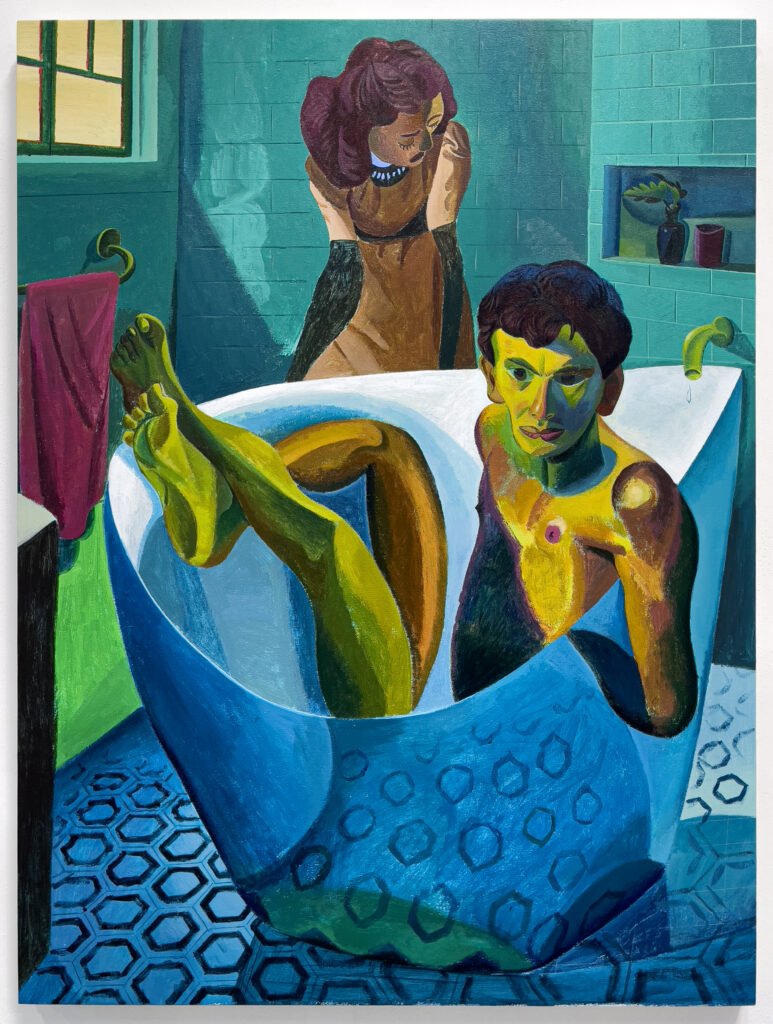 Morteza Khakshoor, Cradle, 2023. Acrylic on canvas. Image courtesy the artist and Duane Thomas Gallery
Morteza Khakshoor's upcoming exhibition at Duane Thomas Gallery, titled "Pin-Drop" will open in Tribeca on September 21st, featuring a reception from 6 to 8 pm.
Morteza Khakshoor, born in Iran in 1984, currently resides and works in Los Angeles, having relocated to the U.S. in 2010 to pursue his education in Fine Arts. This new body of work exemplifies the artist's intricate and multifaceted approach to image making. Often drawing inspiration from found photographs, Khakshoor crafts psychologically charged compositions that defy linear narratives and easy interpretations, frequently subverting gender roles and identity politics.
One of his new pieces, "Cradle," portrays a young man in a bathtub, his body seemingly severed in half, and his arm appearing to be disconnected in perspective. A woman in gloves tends to him, assuming a stance that conveys both protection and judgment. This work draws inspiration from photographic archives of Iran's former royal family, infusing it with an unexpected political undertone. Iran and its uprisings often led by women has made a big impression on Khakshoor and his work. Khakshoor made a series of works titled "Martyrs" in the recent years that spoke to the oppression endured by the country's youth and his resulting paintings defied all that censors and religious authority may comdemn.
While his work is not historical portraiture, Khakshoor draws from broad influcences that have historical implications. Art History in particular deeply informs his practice, with elements reminiscent of Eric Fischl, Matisse, David Hockney, and other masters freely referenced into his compositions. Additionally, his early fascination with cinema, particularly the French and Italian New Waves of the 1960s, contributes to the depth of his artistic references.
In another piece titled "Before the Blaze," a young boy gazes at a match that appears to be held by the viewer of the scene. A figure reflected in a mirror occupies a liminal space between these multiple viewpoints, further blurring the linearity of the space. Many of these works evoke a sense of disorientation and irony, challenging conventional notions of who is seeing and who wields control within the picture plane. Palpable, is the ambition of the artist to unravel the complexities of the act of seeing in a contemporary context. Notably, the female figures in these compositions often serve as guides, both anchoring them and leading the other impaired figures towards a confident destination.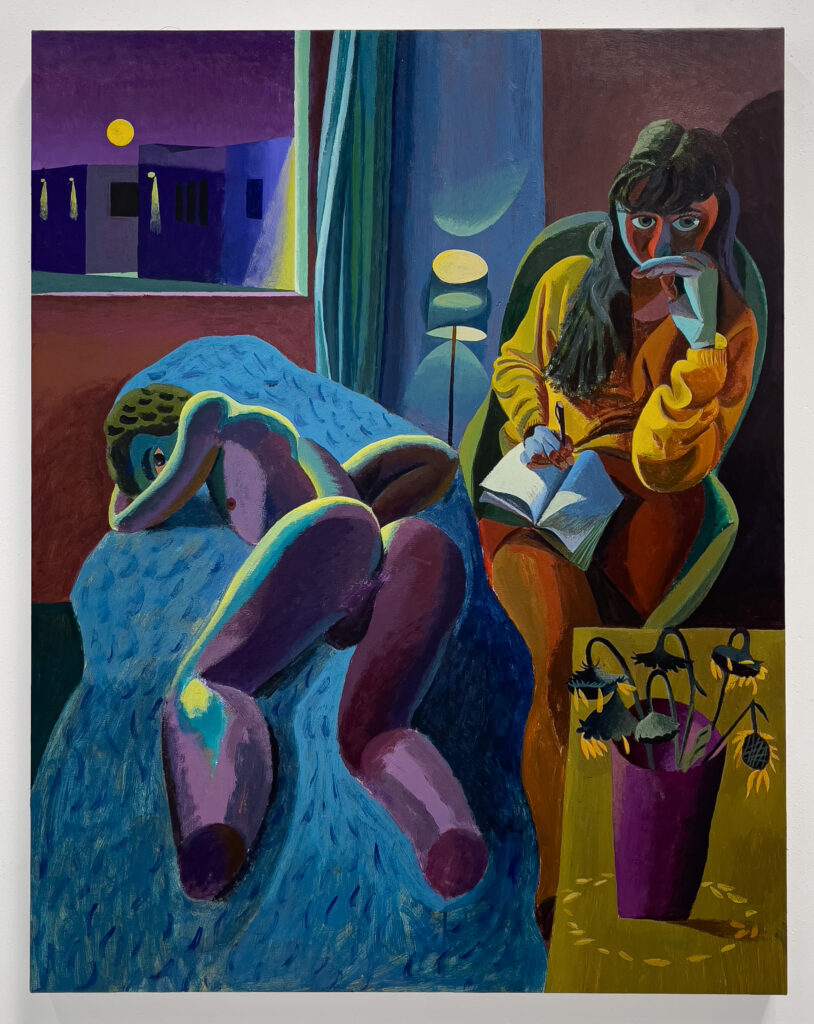 Morteza Khakshoor, "Impaired Flowers, 2023. Acrylic on canvas. Image courtesy the artist and Duane Thomas Gallery.
In "Impaired Flowers,"Khakshoor skillfully explores his brand of irony without confining the work to a closed circuit. The narrative dimension of the piece becomes intricately interwoven with the texture of the paint and the vibrant use of color, transcending its conventional role as a moral story. The setting of a psychiatric appointment serves as the ideal premise for a series of painterly events conjured by the artist within his composition.
Khakshoor's new body of works (possibly his most ambitious to date) establish this young artist as a central figure in the wave of figurative painting that has occupied the international art scene over the last ten years. The exhibition will open on September 21st at our Tribeca location. Please email the gallery for press inquiries and more information: [email protected]
Khakshoor (b. 1984, Iran) currently lives and works in Los Angeles. He moved to the U.S. in 2010 to pursue his education in Fine Arts. He received his BFA from Lyme Academy College of Fine Arts in 2015 and completed his MFA at The Ohio State University in 2018.
Khakshoor has exhibited his work widely in the U.S. and internationally since 2011. Solo exhibitions include: The Quiet Path to Otherwhere atTaymour Grahne Projects, London, UK (2023), Stubbly Numbness at EmmaGrayHQ, Santa Monica, CA (2022), Dirty Words & A Melody at Wilder Gallery, London, UK, and Forty-One Drawings & Prints 2016-2018 at University Art Gallery, California State University Stanislaus (2018).Group exhibitions include: Painters London at Half Gallery Annex, NYC (2023), Queer Intimacy at Taymour Grahne Projects, London, UK (2023), Pour Some Sugar on Me at Lundgren Gallery in Palma, Spain (2022), Danse Macabre at Samuele Visentin, London, U.K. (2022), It Was The Best of Times, It Was the Worst of Times at Duane Thomas Gallery in NYC (2022), Humoral Theory (3-Person exhibition) at BEERS London, U.K. (2020), and 2018 Edition Artists Book Fair (E/AB) in New York, NY.
Morteza is the recipient of many awards, including The Inaugural Emerging Artist Award at the Editions/Artists' Book Fair (E/AB) in 2018. His works are in private and public collections, most notably The Ford Foundation Center for Social Justice in New York City, USA.