TWO BY TWO, May 19th 2022- June 19th 2022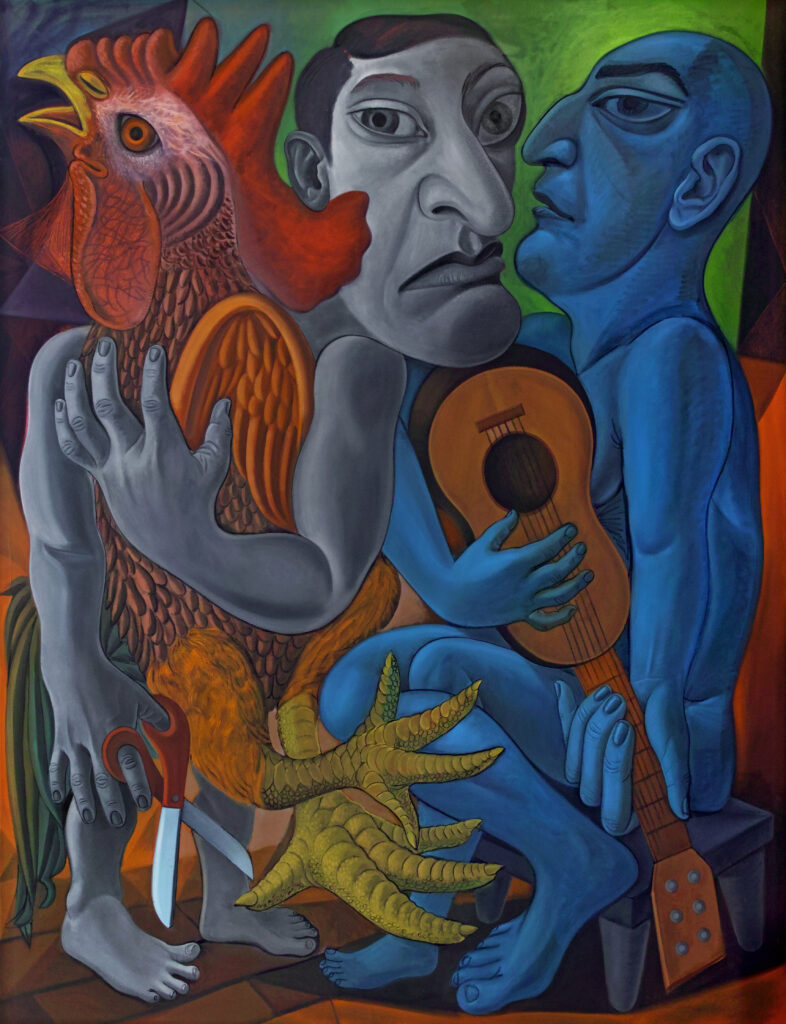 May 19th 2022 by appointment
Duane Thomas Gallery is pleased to present a solo exhibition of new work by Paul Booth, opening on May 19, 2022. "Two by Two" is the artist's New York debut. The exhibition features paintings produced this year exclusively for the gallery. A consummate draughtsman, Booth has created hundreds of drawings the past decade, a selection of which will be presented alongside the canvases.
Booth began working in oil while living with his husband's family in Mexico during the quarantine. There, the looming presence of public works, particularly the country's mural cycles, and the epic vistas inspired him to work at an ambitious scale. In these paintings, as well as the many drawings presented in the exhibition, the compositions appear compressed into the picture plane while also threatening—but never quite managing—to burst free from it. Dysmorphic self-portraits, figures represented in the midst of extreme efforts, and other creatures populate the compositions. Themes of duality, ennui, disassociation, and mental exhaustion prevail throughout the work. Shortened perspectives, bold colors and a particular attention to surface textures are recurring features.
Making the Sausage is the largest work in the show at seven feet tall. It depicts a standing male, rendered in greyscale, holding a pair of scissors in one hand while trying to control a vibrantly colored, squawking chicken with the other. To the right, in languid shades of blue, is a seated guitarist, who is either disinterested in the unfolding chaos or coaxing it forward with his song. This trio is trapped inside a world where the walls and floor seem to be fracturing under the collective weight of the scene.
Moonlight Dance depicts a quieter albeit equally charged moment. As the title suggests, the nude male couple appears bathed in nighttime light, although the dance seems to be more of a negotiation than an intimate reverie. Even though the figures' limbs are braided together, a sense of alienation looms.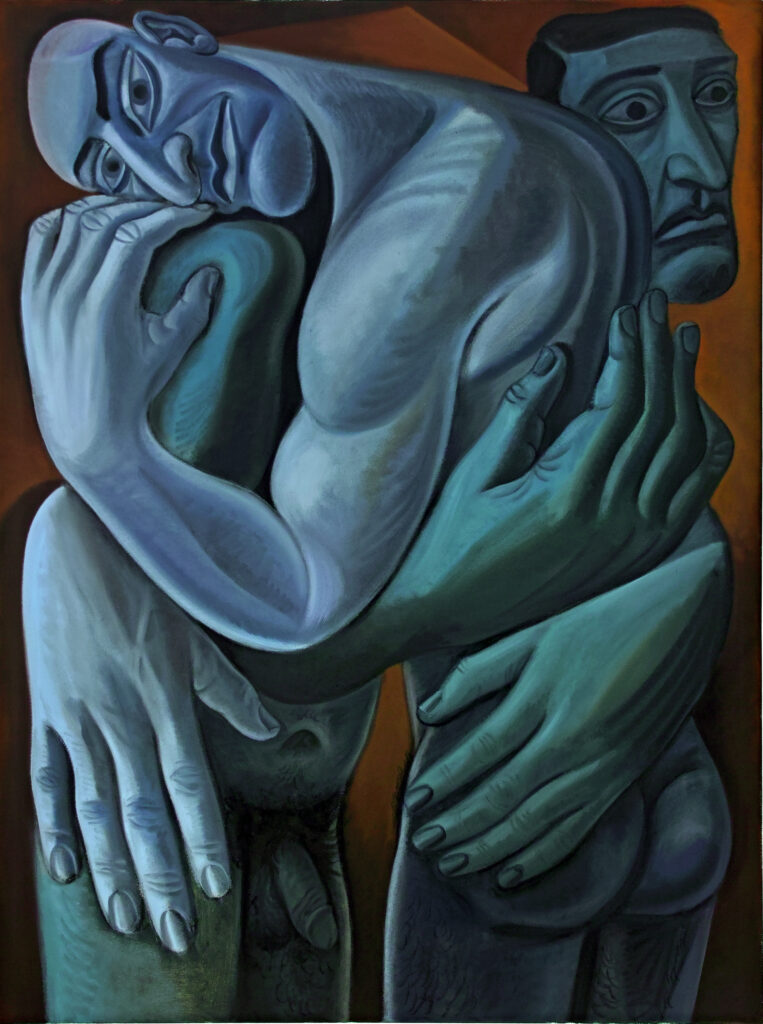 Booth collages together art historical references ranging from Medieval European manuscripts and sculpture to the work of Picasso. These original sources are recast as spiritual rather than religious, and the male artist and female muse are replaced with two men. However diverse the source of his inspiration, Paul Booth finds a voice that is highly personal and resonates freely in the context of our often fractured contemporary era.
Biography:Paul Booth (b. Akron, Ohio, 1978) lives and works in New York, NY. He obtained a BFA in printmaking from Arizona State University (2002). Booth finds a constant source of inspiration at the Metropolitan Museum of Art, where he has worked since 2013 producing exhibition catalogs. Booth's drawings were the subject of a solo presentation at NADA Miami in 2020. "Two by Two" at Duane Thomas Gallery is his first New York solo exhibition.
for more information or to book an appointment contact us at