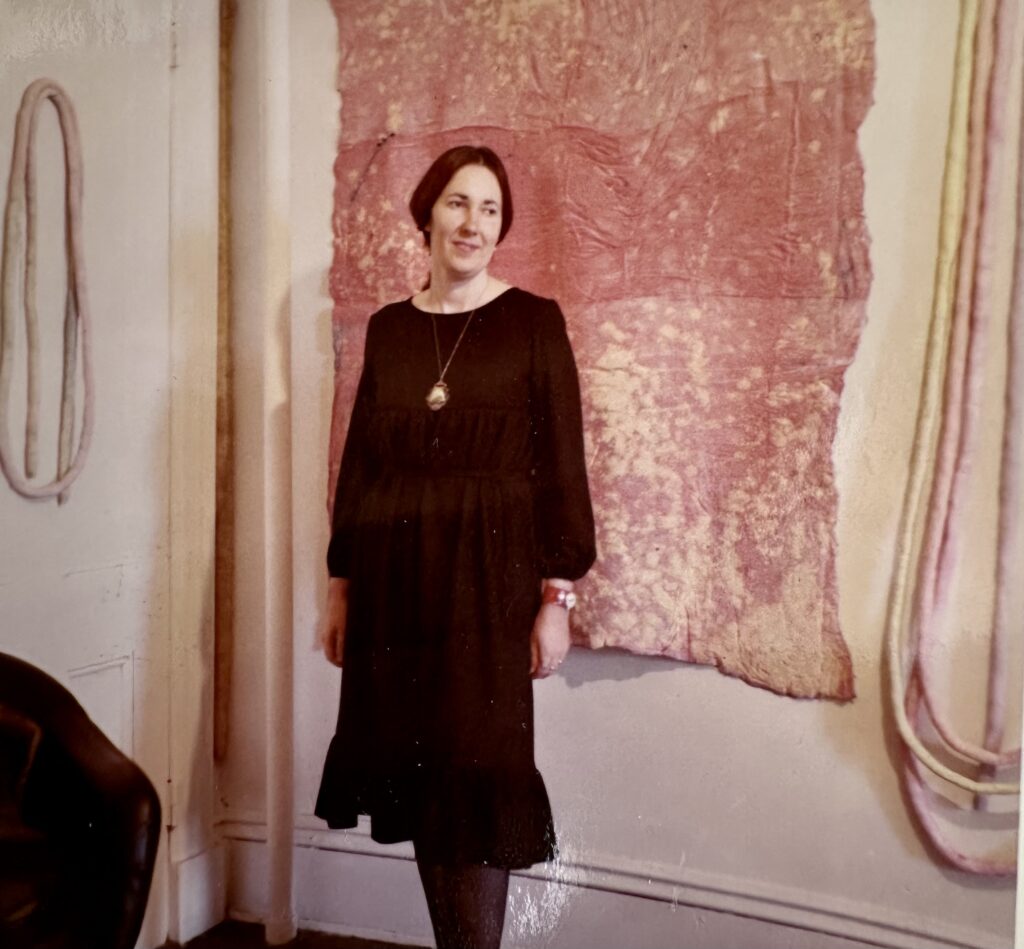 Shirley Pettibone in her studio, Brooklyn NY, circa 1969. Photo courtesy the estate of the artist.
Shirley Pettibone was born Shirley Young in Bakersfield, CA, in 1936, to a farming community that was bewildered by her ambition to become an artist. Following her parents' plea to pursue a practical career, she obtained a teaching degree from Principia College in 1957. Once completed, she applied and entered The Otis Art Institute in Los Angeles in 1958 to pursue her true vocation. This is where she met her soon-to-be husband, Richard Pettibone. The pair forged a companionship that is both apparent in their sharing of a studio and an apartment, but also in their fearless and joint interest in the most forward artistic trends. It is rumored that a show of Joseph Cornell at The Pasadena Art Museum in 1960 may be responsible for an outpouring of neo-Dada works in the LA area at the time, a period now often referred to as "Assemblage," or "Junk Art." The institute was run at the time by students of Peter Voulkos, and ceramics was an important part of the curriculum. Both Shirley and Richard tried their hands at ceramics, and Shirley began experimenting with cloth that she stuffed with pillow fiber. She created a piece "Untitled (Cloth Assemblage)," circa 1963, that resembles a womb and a fetus.
The work made two years earlier than Eva Hesse's first series of conceptual sculptures is highly innovative in its unabashedly feminine openness. In a statement written in later years, she wrote: "I began creating original work around 1961. At the time, I felt it was impossible to do flat paintings anymore. Real objects reflected substance, but I was adding magic by painting them with additional imagery. An early series of collaged drawings with paint included parts of photographs of nude women. I regard these as a poetic, enigmatic celebration of Woman as a personal statement. At this time, I also began exploring the possibilities of using polyester resin as a stiffening agent for cloth in my three-dimensional paintings to convey strength. I did a series of rumpled images with ambiguous content, including flower and body parts. These pieces were both a celebration of the feminine and a protest against the conformity of the constrictive 1950s."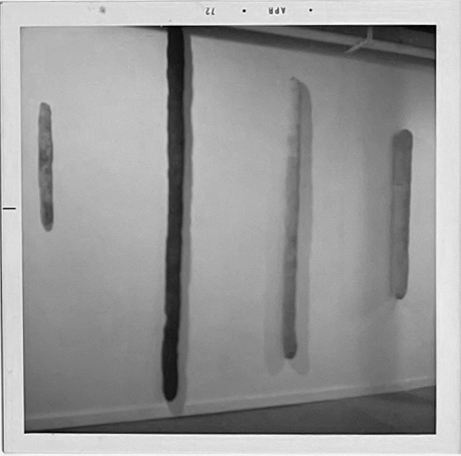 Shirley Pettibone, "Cloth Objects," 1972 exhibition at 100 Acres, Ivan Karp's first gallery, NYC.
FIRST SOLO EXHIBITIONS (1962-1966)
Her partnership with Richard led to a dual exhibition at Cunningham Gallery in January 1962 where they presented ceramics and paintings. She obtained her first solo show in the Spring of 1963 at Aura Gallery in Pasadena. For this occasion, Shirley Pettibone presented a highly audacious series of wall sculptures made from recycled handbags and women's negligees. The feminine articles are transformed by the artist with rough materials in what seems to be organs (rib cages, vaginas, skin…). These works are reviewed in Artforum: "Three-dimensional organic forms fashioned from plastic and a variety of materials dominate the exhibition (…) The references to reproductive organs are, in some instances, nevertheless, too direct." (Artforum, Spring 1963, review signed C.P.) It is to be noted that the review carefully avoids discussing the feminist position of the works, but the reviewer seems more impressed by her drawings that: "…painfully probe the unconscious mind while titillating the conscious."
The reference to reproduction and particularly the bodies of women now seem, in retrospect highly relevant to an artist who engaged in work that directly confronted the fate of women in America in the early '60s. It may be that unlike Eva Hesse, who obtained immediate recognition for her work, Shirley Pettibone may have come too early and maybe too strong for the sensibility of the time's art intelligentsia.
After graduating from Otis, both she and Richard established their studio in Los Angeles and began experimenting with silk-screen printing as early as 1964. An exhibition at the California State College at Los Angeles showcased her screenprinted works in 1966. The work was composed of multi-paneled paintings show- casing images of clouds and water. While the works garnered some attention, it is Richard's miniature renditions of Warhol, Jasper Johns, and others, all sized scrupulously after advertisements in Artforum, that truly took off with an exhibition at the Ferus Gallery in 1965 and culminated with his solo show at Castelli Gallery in NY in 1968. At that point, Shirley dedicated herself to his burgeoning success and assisted in the making of the miniature paintings. The couple moved to NY following the show at Castelli gallery to start a new home and studio in Brooklyn. It is there as early as 1968 that Shirley Pettibone renews with making work of her own. This time she experiments with painting, dripping diluted acrylics on thin muslin straight onto the floor.
THE CLOTH OBJECTS (1968-1973)
The resulting paintings are sometimes sewn and turned onto themselves to form tubes that she fills with pillow stuffing. She may have referred to these objects as "Stained Batting" on archival photographs or later in a show of these works in LA as "Cloth Objects." The pieces are both revolutionary and highly synthetic in their approach to painting and sculpture. Neither truly one nor the other, they articulate, with a high degree of clarity, the elements of the crafts, decompose them, and reorganize them in an object that feels highly familiar and yet definitely foreign.
The years between 1968 and 1970 seemed particularly important and prevalent in the making of works for both women artists worldwide and for Shirley Pettibone, who saw the political revolution taking place as an opportunity to make her most refined and mature work to date. The Cloth Objects were presented in three major venues in the course of three years: Ivan Karp's first gallery "100 Acres," Lucy Lippard's seminal exhibition at the Aldrich, and a smaller yet notable presentation of the works at a newly opened artist space in Los Angeles, Orlando Gallery, in 1973. The works (of which documentation exists for at least 40 pieces) can be divided into five categories: paintings, which are stained muslin freely hung on the wall without stretchers; single-strand batts; multi-stranded batts; multi-stranded batts that are hung in a rainbow pattern. and single strands wrapped in a collar pattern The exhibitions seemed to function as a repertory or index of the type of opportunities this invention provided. The stuffed objects project a highly charged charisma that is both structurally primitive, ironically psychoanalytical, and, in the sense of a "Soft Sculpture," inviting and sensuous.
The muted references to Freudian psychoanalysis, and in particular his misogynistic point of views, could be inferred here in the notion of a primary object. However, Unlike Louise Bourgeois who gains some attention with her phallic sculpture "Fillette" in 1968, Pettibone may be more inclined to pursue her investigation as a formal experiment that may be more closely associated with the works of women working in the conceptual field. In the presentation of the works where the strands become multiples, the pieces reveal their structural potential. Shirley Pettibone came to prominence as an artist of the conceptual art movement and sought to demonstrate that she too could produce an important project of deconstruction: deconstruction of painting and sculpture in this case that possessed all the rigor and synthetic beauty required of a great conceptual master.
During this period, the Cloth Objects could also take the form of a piece of fabric cut into one-inch strips that were then sewn back together, repaired to some extent. These pieces evoked flags and provide insight into the role that sewing may play in these works as a traditionally feminine craft whose function is to bring broken pieces together (quilting).
LUCY LIPPARD (26 Contemporary Women Artists)
In 1971 these works were included in the seminal exhibition curated by Lucy Lippard titled "26 Contemporary Women Artists" at the Aldrich museum. In 1969, Lucy Lippard, by her own admission, was "alarmed" at the state of inclusion of women in art exhibitions. She decided to tour studios in the tristate area with the ambition of showcasing the works of women artists: "I took on this show because I knew there were so many women whose work was as good or better than that currently being shown, but who, because of the prevailing discriminatory policies of most galleries and museums, can rarely get anyone to visit their studios or take them as seriously as their male counterparts." Over the course of several years, Lippard selected 26 women artists for her show including Shirley Pettibone.
While Eva Hesse forged a path to stardom in the short years she was active, many women working in the conceptual vein were finding it difficult to show their work. Nonetheless, many persisted despite the bias, and an entire school of conceptual thinkers worked in the shadows. Gone was the idea of material for material, and structure for the sake of structure; a new generation of women were heralding a new wave of deconstruction: Mary Heilmann, Howardena Pindell, Louise Parks, Dona Nelson, Mary Miss, Sylvia Mangold, Barbara Zucker and many others are only today getting the recognition they deserve
SOFT SCULPTURE
If Lippard was not directly involved in the process of Shirley Pettibone in the manner of scholarly discussions, it is clear that her works fit within a number of major concepts that were central to Lippard's thinking. The concepts of "Soft Sculpture," "Eccentric Abstraction," and "Dematerialization" would all apply. At work, a kind of polemic opposition between "Hard" and rectilinear plywood shapes and "Soft" fiberglass and cloth- made works that enabled a sensuous experience. Other exhibitions of the time flipped these ideas into different iterations and terms such as "Primary Structuralists" and the resulting show "Primary Structures " at the Jewish Museum in 1966. A piece by Bruce Nauman from 1965, "Untitled," made of half hard, half soft materials, and other works by Richard Serra and Robert Morris in the years between 1965 and 1970, all showcased these preoccupations. This sudden focus on materials and their attributes in the conceptual art scene of the 60s may be attributed to several factors. The first, is the introduction of polymers to mass consumers, including artists. Eva Hesse attended workshops in New York City that were extremely popular with artists, teaching them about the many uses of resins in the art process. For most, however, the question resided in parting ways with minimal orthodoxy, in particular the Christian features of Minimalism (wood and crosses being the preferred material and sym- bol for Judd and Andre). Artists such as Bruce Nauman and Richard Serra were invested in finding ways to use these new materials to lift artistic expression out of its formal slumber. Thus, a political stance, a sense of irony or doom, or even a sense of humor could emerge from the work.
Much can be said about the difference between female and male artists of the time, the most crucial of which is that men artists were being exhibited and sold their works, women did not. A famous video by Bruce Nauman titled "Violent Incident – Man Woman Segment," made at a later date (1986), serves as indication that the trajectory of art history, and in particular conceptual art history in America, is not immune to inequalities between the sexes. The late sixties announced the height of the Women's Liberation movement, with the right to abortion, the contraceptive pill, and a widening acceptance of divorce. One would have expected the field of Conceptual Art in America to filter through many of these societal changes.
Shirley Pettibone, Survey exhibition, Duane Thomas Gallery, exhibition view, 2023
In the years following these groundbreaking innovations, Pettibone shifted her interest to realist painting. It may be that the deconstruction project which took much of her practice in the 1960s had found an ultimate expression and was over. One such "flag piece" presented in our exhibition is composed of 51 strands of stained fabric, with twenty lines of sewing running across, bringing the piece together as one, the work is both united and torn. The simplicity of the work and the depth of its symbolism is undoubtedly the work of a master
PHOTO REALISM (1973-2011).
As soon as 1973, Pettibone became interested in Photorealism and began a series of works until her death that dealt with imagery imbued with a sense of loss and wonder. Like many, she made a shift from the conceptual art scene of the 60s to become a naturalist. Observant of trees, clouds, and bodies of water, she painstakingly depicted them with rigorous strokes. In an artist statement she wrote for an exhibition catalogue of these works: "I am a realist, but some of the symbolism of my early work still lies beneath the surface. I have never liked obvious statements but have chosen ambiguous symbolism and suggestion in order to give the viewer choices. My love and concern for nature and the environment are important elements in my art, and I hope my work conveys a life-affirming spirit to others.