SHIRLEY PETTIBONE: SURVEY OF THE CONCEPTUAL WORKS 1961-1973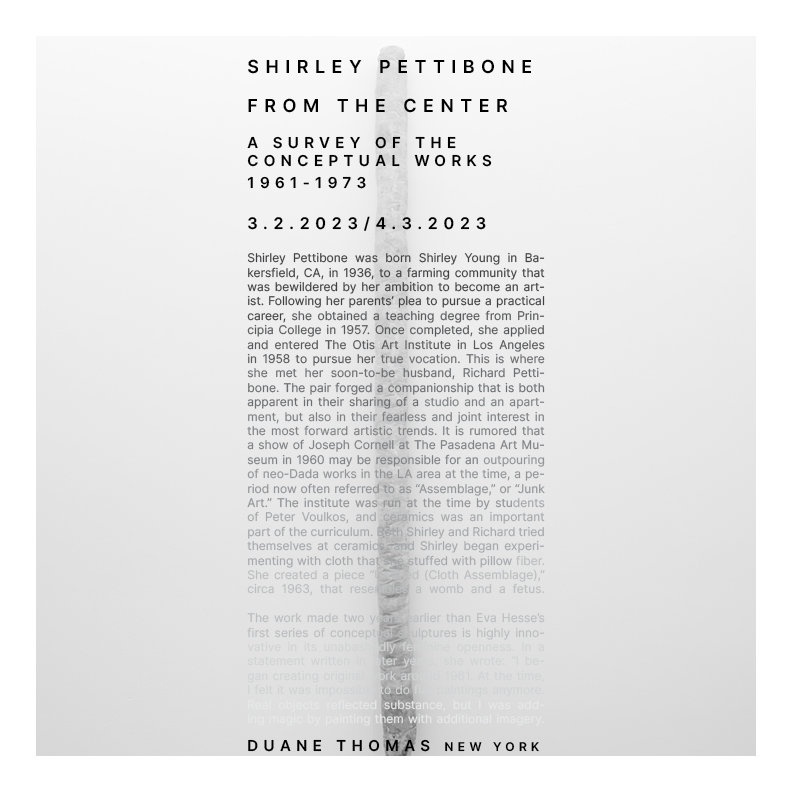 March 2, 2023- April 3, 2023
Duane Thomas Gallery is proud to announce its exhibition: "SHIRLEY PETTIBONE: SURVEY OF THE CONCEPTUAL WORKS 1961-1973." This exhibition is planned and made possible thanks to a collaboration with the estate of the artist.
Shirley Pettibone (1936-2011) was born in Bakersfield, CA, to a community of farmers who were bewildered when she expressed interest in becoming an artist. Her parents encouraged her to pursue a practical career, and she obtained a teaching degree from Principia College. Soon thereafter, she applied to the Otis Art Institute and attended the school starting in 1958.
For this survey, Duane Thomas Gallery will present some of Pettibone's early works, including drawings with a distinct feminist sensibility and assemblage pieces made from cloth and polyester resin, while also focusing on her main and most mature conceptual body of works: "The Cloth Objects."
These works, made between 1968 and 1973, were mostly started after she and her then-husband, Richard Pettibone, moved from California to Brooklyn. Made from muslin that the artist dyed with thinned acrylics on the floor of her studio, they were sometimes sewn and turned onto themselves to become sculptures that she filled with pillow stuffing. The pieces were both revolutionary and highly synthetic in their approach to painting and sculpture. Neither truly one nor the other, they articulate, with a high degree of clarity, the elements of the crafts, decompose them, and reorganize them into an object that feels highly familiar and yet definitely foreign.
The years between 1968 and 1970 seemed particularly important and prevalent in the making of works for both women artists worldwide and for Pettibone, who saw the political revolution taking place as an opportunity to make her most refined and mature work to date. The Cloth Objects were presented in three major venues in the course of three years: Ivan Karp's first gallery "100 Acres" in 1972, Lucy Lippard's seminal exhibition at the Aldrich "26 Contemporary Women Artists" in 1971, and a smaller yet notable presentation of the works at a newly opened artist space in Los Angeles, Orlando Gallery, in 1973.
While Eva Hesse forged a path to stardom in the short years she was active, many women working in a conceptual vein during this period were finding it difficult to show their work. Nonetheless, many persisted despite the bias, and a new generation of women, including Pettibone, were heralding a new wave of deconstruction: Mary Heilmann, Howardena Pindell, Louise Parks, Dona Nelson, Mary Miss, Sylvia Mangold, Barbara Zucker, and many others are only today getting the recognition they deserve.
In the years following these groundbreaking innovations, Pettibone shifted her interest to photorealist painting. It may be that the deconstruction project, which took much of her practice in the 1960s, had found an ultimate expression and was over. One such "flag piece" presented in our exhibition is composed of 51 strands of stained fabric, with twenty lines of sewing running across, bringing the piece together as one; the work is both united and torn. The simplicity of the work and the depth of its symbolism is undoubtedly the work of a master.
In an artist statement she wrote for an exhibition of these paintings she stated: "I am a realist, but some of the symbolism of my early work still lies beneath the surface. I have never liked obvious statements but have chosen ambiguous symbolism and suggestion in order to give the viewer choices. My love and concern for nature and the environment are important elements in my art, and I hope my work conveys a life-affirming spirit to others."
SHIRLEY PETTIBONE: THE CONCEPTUAL WORKS 1961-1973 will open in Tribeca on March 2nd with a reception from 6-8pm.
For more information or to make an appointment contact:
DUANE THOMAS GALLERY
137 West Broadway #3
New York NY 10013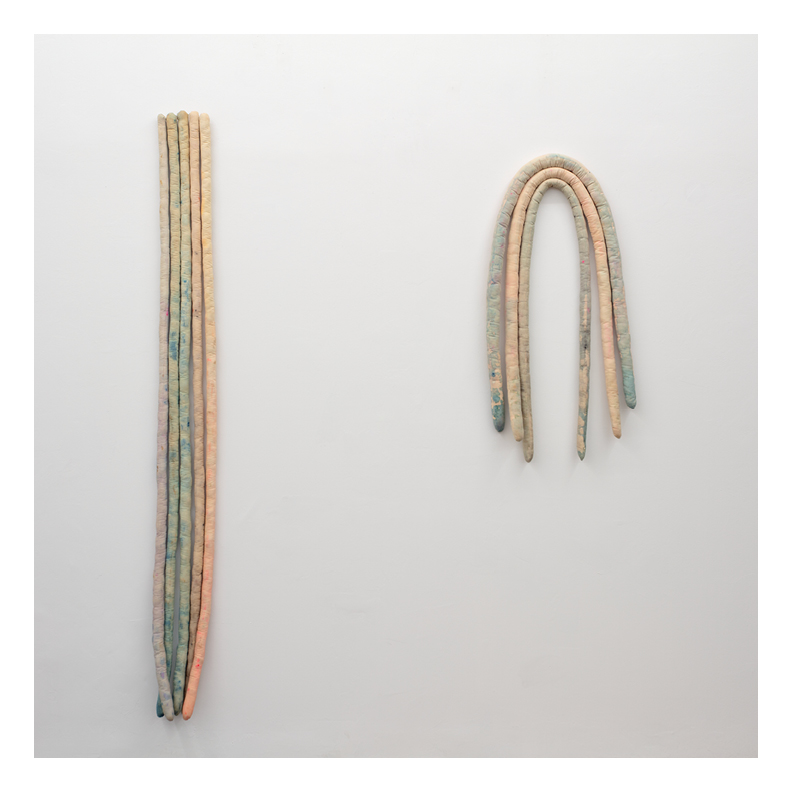 Instagram: @duanethomasgallery
Email us for more information [email protected]