TIMOTHY WASHINGTON
INDUCTION & SUSPICION
Curated by KILOLO LUCKETT
April 15/ June 7 2021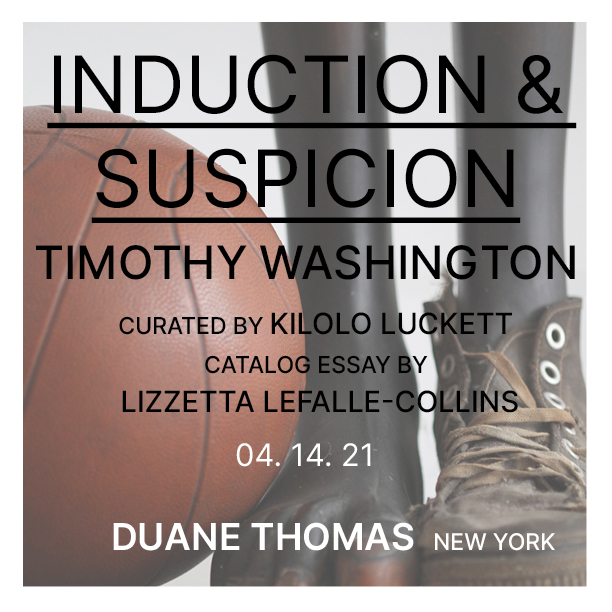 Duane Thomas Gallery is proud to announce its upcoming exhibition of Timothy Washington, an influential figure of the 60s and 70s in Los Angeles. Washington was active in the Black Arts Movement, which comprised artists such as Charles White, David Hammons, Betye Saar, Noah Purifoy, John Outterbridge, and Senga Nengudi, amongst others. Often and unjustly overlooked, Washington was a significant agitator and central figure of the Black Arts Movement. The exhibition is one in a series of recent surveys, including a retrospective at CAAM, that brings attention to the major importance of the artist in contemporary American art history.
"Induction & Suspicion", the title of the show, refers to a sculpture and part-installation the artist created for the Wylan gallery in 1973 which has been loaned from a private collection. The work, blazingly political, is possibly one of the most overlooked and yet iconic works created on the West Coast during this period. Composed of an oversized wood-carved figure, a basketball, and a found shoe, it sharply addresses anti-Black racism, social exclusion, classism, sexual exploitation and violence.
Also present in the exhibition is a masterwork from 1974, "God Is," composed of a found tabletop the artist carved up and encrusted with elements he gathered on the streets soon after the Watts rebellions. Also from the period, several of his best drypoint on metal works will be on display.
Washington, now 75 years old, lives in Los Angeles and has never ceased to invent and create groundbreaking artwork. The gallery will dedicate a substantial part of the show to showcase some of these later works, all imbued with notions of assemblage and performance. Using materials that are both politically meaningful and very unique to his practice, Washington has been making works with black eye peas, cotton and glue, cornbread, collected fragments of various origins, community announcements, coupons, stamps… and the list goes on. Formally provoking, these works expand upon his earlier practice by deepening our understanding of his obsession with turning the mundane into a spiritual experience.
The publication of a monograph on Washington is planned by the gallery and overseen by curator and art historian Kilolo Luckett, composed of an essay by Lizzetta LeFalle-Collins written for this occasion, and interviews with seminal artists and colleagues influenced by the Black Arts Movement conducted by Luckett.